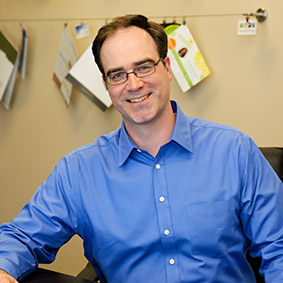 Brian Michalowski,
President Frederic Thomas USA
Brian has been part of the Frederic Thomas USA team since 2004. During his tenure, he has cultivated loyal relationships with some of the world's largest and best publishers. He has also secured publishing licenses for numerous custom book promotions. Brian thrives on the challenge of developing promotional concepts that align with his clients' business and marketing goals. He provides strategic vision for the company's growing list of custom print products. Thus far, Brian has managed more than 300 promotional titles, ranging from custom-created activity books to storybooks featuring all-time favorite characters.
Reflecting on the process of creating new concepts, Brian explains, "Of course, we do a lot of brainstorming, but we also do a lot of listening. We listen, intent on understanding our clients' needs. Then, we listen to our clients' customers—both parents and kids. "Then, "as we get to know them, we seek to understand what families want, as well as what excites them. From concept to final creation, we continue brainstorming and listening … every step of the way."
Brian graduated from Bradley University summa cum laude, and went on to earn a master's degree from Purdue University. In high school and college, Brian was a champion swimmer. Since then, he has become a self-taught drummer and enjoys all types of rock music. Brian lives in Wisconsin and cherishes being a full-time dad to his two sons. He also supports his wife's dream of building and growing her own Disney travel agency, a dream that is now a reality! Brian has actually dreamed up a few publishing ideas that were inspired by his family's explorations of the wonders of Walt Disney World!
Brian's favorite books from his childhood include: Walt Disney's Little Golden Books, Frog and Toad series, Choose Your Own Adventure books, Matt Christopher chapter books and Charlie Brown's Cyclopedia series.
---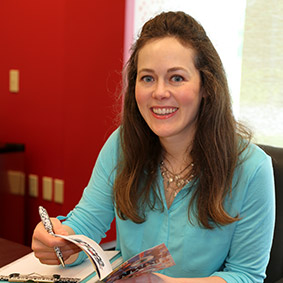 Heather Bazata,
Creative Director
Heather joined the creative team at Frederic Thomas USA in 2005. Working on custom and licensed properties, she uses her design, illustration and writing skills. She enjoys creating materials for a company with uncompromising standards. In her role as creative director, she coordinates the efforts of writers, editors, designers and illustrators in creating high-quality products that effectively connect clients to their customers.
Guiding projects from pencil to print provides a fun challenge for Heather who says, "It's a privilege, working with an experienced creative team and knowledgeable manufacturing experts. Although every project is unique, our commitment to meeting our clients' particular needs and requests remains a constant."
From a young age, Heather enjoyed family travel adventures throughout the United States, such as hiking in the Rocky Mountains, reliving the nation's history in Williamsburg, climbing to the top of the Statue of Liberty, and swimming with dolphins in Florida. While studying art at University of Wisconsin–Madison, she spent a semester in London. After graduation, she worked in a stained-glass studio before getting married. When her husband was awarded a Fulbright Teacher Exchange, they lived in England for a year. Then they returned home to Wisconsin where Heather began her full-time freelance career. She relishes the variety of work, from paintbrushes to computers! Working with Frederic Thomas USA is a satisfying outlet for her creativity and imagination.
Heather's favorite books from her childhood include: Goodnight Moon, The Best Nest, We Were Tired of Living in a House, Laura Ingalls Wilder's Little House series, Misty of Chincoteague series and The Black Stallion.
---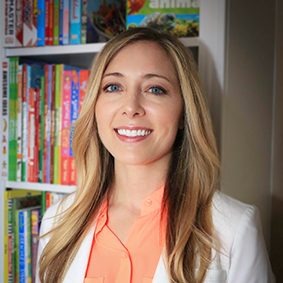 Hillary Gammons,
Key Account Executive
Hillary began her work with Frederic Thomas USA in 2013. As a mother of three young children, she applied a mom's perspective to research and review potential books. She valued the Frederic Thomas USA commitment to create quality, fun, educational, family-friendly materials for their clients. Hillary's distribution industry background in customer-service management, design, and organizational development, instilled a thorough understanding of satisfying clients and their customers.
In 2016 she transitioned to the Frederic Thomas USA Key Account Management Team. She says, "This role requires passion, energy, and enthusiasm—all things I've had for this company from day one. I am delighted to collaborate with such a creative team, producing exciting products and finding successful connections in the marketplace for our clients. Working in this capacity, while promoting the positive influence of Frederic Thomas USA, is rewarding for me as a mom and as a businesswoman."
Hillary lives with her family near Nashville, Tennessee. She and her husband write, record, and perform songs together. Family-time favorites include exploring children's museums, enjoying water parks, cooking and baking, rock-climbing, hiking, and skiing. Whether at home or away, every night ends with a few good storybooks. Hillary's favorite childhood books include: Ramona the Brave, That's Good--That's Bad, What-a-Mess, and Amelia Bedelia.